This article may contain links from our partners. Please read
how we make money
for more info.
Rev.com Review
Cost Of Services

Services Offered

Project Turnaround

Content Security
Summary
Rev.com hired the best transcriptionists, captionists, and translators so your content gets transferred with 99% accuracy every time.
Pros
99% accuracy guarantee

Diverse service offerings

Global reach with translations in 16 languages

Handles finding frelancers for you

Positive reviews from clients
Cons
Can be pricey for extensive projects

Limited customization for transcription formats

Possible delays during busy times

Requires internet connectivity

Limited language options for translations
In today's digital world, the need for transcription and translation services is more significant than ever.
Whether you're an educator or a content creator aiming to broaden your audience, having a trustworthy platform to handle your audio or video content can be a true asset.
Enter Rev.com, a platform making quite a buzz in the online job market.
It's carved a niche as a legit company, helping many individuals and businesses make extra money from their content with its transcription and translation services.
But with so many options available, does Rev.com truly offer accurate services? And most importantly, is it worth your time and investment?
In this comprehensive review, I'll look at the services offered by Rev and evaluate their reliability based on user feedback and positive reviews to give you in-depth info on the platform.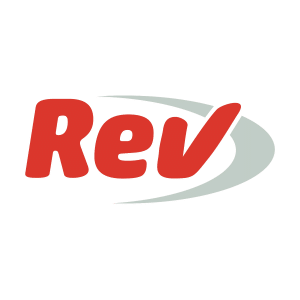 Rev
Get your audio and video files transcribed by the largest marketplace of experienced transcribers—guaranteed to be 99% accurate.
Get Started Now
Key Takeaways
Accuracy is a Priority

: Rev isn't playing around when they say they offer 99% accuracy.

A Global Player

: They offer services available in 16 languages.

Competitive Pricing: The pricing varies between $0.25 – 12 per minute for transcription, captioning, and translation.

Freelancer-Friendly

: If you're a freelancer looking to earn extra cash on the side or a steady income, Rev is a great platform for flexible work.
Rev.com Review
What Is Rev?
Rev is a legit company where you can find transcriptionists, translators, and captionists to document and translate your content.
You've got a neat navigation menu that guides you to various services like video and audio transcription, English closed captions, and globally translated subtitles.
And guess what? The pricing is clear as day – no hidden charges or surprises!
How Does Rev Work?
Whether you're a first-timer or a returning customer, understanding the ins and outs of Rev.com's workflow can help you make the most of what they have to offer.
Here are the steps for working with Rev:
1. Choosing Your Service & Place An Order
First things first, you have a variety of transcription and translation services to choose from.
Whether transcription, captioning, or subtitling, Rev.com is a one-stop shop for all your content creation needs.
The options are plentiful, from converting your audio and video files into text with impressive accuracy to adding English subtitles to your videos.
And the best part?
You can choose a service that aligns perfectly with your project requirements, ensuring a tailored approach to meet your needs.
Once you've decided, it's time to place your order.
It's a simple process: just upload your files, and you're good to go!
2. Getting The Job Done
Here's where the magic happens.
With a blend of technology and human expertise, Rev ensures that your content is handled with the care and precision it deserves.
It's a collaborative effort that brings together the best of both worlds, guaranteeing a result that's nothing short of perfect.
It's like having a team of experts at your disposal, working tirelessly to deliver results that exceed your expectations.
3. Delivery & Payment
Before you know it, your project is ready.
Rev.com prides itself on quick turnarounds, so you won't be left hanging. Imagine having a reliable partner that delivers on time, every time.
With a commitment to speed and efficiency, Rev ensures that your project is delivered on time, allowing you to move forward with your plans without any hitches.
When it comes to payment, Rev.com keeps it transparent and straightforward. The pricing is clear from the get-go, so there are no nasty surprises when settling the bill.
And here's some good news for you – they accept various payment methods to make the process smoother.
Whether you prefer using credit cards or PayPal, they've got you covered, offering a hassle-free payment approach to make your experience smooth and pleasant.
Services On Rev
Rev presents a rich array of services designed to cater to a diverse clientele, from transcription to translation.
Whether you want to transcribe an important interview, add subtitles to your video content, or translate documents into various languages, Rev.com is a one-stop solution.
Let's unpack the details and explore the different services at your disposal when choosing Rev.
Transcriptionist
So, you've got audio files or a video file that needs converting into text?
Rev.com is here to lend a hand.
Their professional transcriptionists are ready to jump in, dedicating their skills to precisely capturing every word.
They meticulously transform your audio and video files into text documents that echo the original tone and essence, creating a written record that's as engaging as the spoken words.
And guess what? This premium service won't break the bank.
At just $1.50 per minute, it is an affordable gateway to high-quality transcriptions, ensuring your content reaches new heights without burning a hole in your pocket.
If you want another option that's less expensive, they also have automated AI transcription for $0.25.
But the automated transcription has about 90% accuracy, whereas human transcriptionists have a 99% accuracy for content!
Subtitler
If you're on the hunt to amplify the reach of your videos with English subtitles, Rev should be your go-to destination.
Just picture the immense possibilities that unfold when your content becomes accessible to a broader spectrum of viewers.
But the benefits of Rev's service don't just end at expanding your audience base. It's also about enhancing the overall viewer experience.
Imagine the depth and nuance that well-crafted subtitles can add to your videos. This makes them not only accessible but also more engaging and immersive.
And here's the kicker: this service comes with a promise of top-notch quality, mirroring the pricing and reliability of their transcription service.
It's a win-win situation, offering a fantastic avenue to boost viewer engagement without stretching your budget.
Translator
Going global? Rev.com is your ally in this venture.
Rev is a powerful tool for breaking down language barriers and making your content more universal.
Imagine the doors that open when your videos speak 16 different languages.
It's not just about reaching people; it's about connecting with them, understanding their nuances, and engaging them in a conversation that transcends borders.
Think of it as giving your content a passport, freedom to traverse and resonate in diverse cultural landscapes.
It's about fostering a global community where your message finds a home in many hearts and minds.
Captionist
In today's digital landscape, content reigns supreme. And Rev.com understands this, offering top-notch captioning services that ensure your videos speak to everyone.
Think of it as giving your videos a voice that everyone can hear. A voice that complements the visuals, making your message clearer and more impactful.
It's not just about reaching those with hearing impairments. It's about enhancing the experience for every viewer, ensuring they grasp every nuance of your content.
With Rev's captioning, your videos gain depth. They become more immersive, drawing viewers in and holding their attention.
In the end, it's about creating content that's both inclusive and compelling. A blend of accessibility and engagement sets your videos apart.
Pay Scales
Whether you have a steady stream of content that needs sprucing up or want to dip your toes in, Rev has a plan that suits your pace and budget.
When choosing a payment plan at Rev.com, you have two straightforward options: the Rev Max Subscription ($29.99 per month) and the Pay-As-You-Go plan.
These pay scales are designed to cater to different online transcription needs, whether you have a continuous flow of projects or occasional small tasks online.
You can try Rev Max for a 2-week free trial and get 20 hours of transcription, captioning, and translating
Let's look at each service and how much things cost:
Automated Transcription
Pay-As-You-Go Cost

: $0.25 per minute

Subscription:

$29.99 a month

Best for:

Personal Use

Accuracy: 90%
Human Transcription
Pay-As-You-Go Cost

– $1.50 per minute

Subscription:

$29.99 a month

Best for:

Published Content

Accuracy: 99%
English Captions
Pay-As-You-Go Cost

– $1.50 per minute

Subscription:

$29.99 a month

Best for:

Video Accessibility

Accuracy: 99%
Global Subtitles
Pay-As-You-Go Cost

– $5 to $12 per minute

Subscription:

$29.99 a month

Best for:

Global Video Content

Accuracy: 99%
FAQs
What services are available on Rev?
If you're curious about what Rev.com has in store, you'll be pleased to know they offer a range of services to cater to your content needs.
Their transcription service is a standout, easily converting audio or video files into text.
It's an invaluable resource when you need written records of interviews, meetings, or YouTube videos.
You can choose between automated and human transcription services, allowing you to find the perfect fit for your budget and quality preferences.
They also offer a captioning service for video subtitles that is a boon for anyone aiming to expand their video content's reach.
It goes beyond just adding English subtitles; they can translate your content into various languages, connecting with audiences globally.
Is Rev.com a scam?
Rev isn't a scam.
It's a legitimate company offering various services, including audio and video transcription, captioning, and translation.
Over the years, it has built a solid reputation, becoming a go-to platform for individuals and businesses looking to enhance their content accessibility and reach.
The company prides itself on its transparent pricing structure, ensuring customers are well aware of the costs upfront, with no hidden charges to worry about.
This transparency and commitment to delivering quality services with quick turnaround times has earned them a trustworthy place in the market.
Nevertheless, it's always a wise move to do a bit of homework before choosing a service. There have been reports of low pay rates for transcriptionists and poor audio files.
Taking the time to read reviews on Trustpilot and gather feedback from other users can provide a well-rounded view of what Rev.com offers.
How trustworthy is Rev.com?
Rev.com is a trustworthy transcription, captioning, and translation service provider.
Rev.com has a "Great" rating on Trustpilot, boasting a score of 4.2 out of 5, based on feedback from 6,257 customers.
82% of users and freelancers have given it 5 stars!
Based on their Trustpilot rating, most of their customers have enjoyed top-quality service, delivered accurately and on time, with high customer service.
While some customers have experienced issues, these are rare, and Rev.com has taken steps to resolve them.
Here's a glimpse into what some users have to say:
1. Positive Feedback:
Fast and Accurate Services

: Many users praised the quick turnaround time and the accuracy of the transcriptions.

Ease of Use

: Customers appreciate the user-friendly website and the straightforward process of uploading files for transcription.

Value for Money

: Several users mentioned that the services offered by Rev.com provide great value for the money, especially when it comes to transcription and captioning services
2. Negative Feedback:
Issues with Non-English Transcriptions

: Some users reported dissatisfaction with transcriptions by non-English speakers, resulting in inaccuracies and poor-quality files.

Customer Service Concerns

: A few customers mentioned unsatisfactory experiences with customer service, particularly regarding refunds and communication about service delays.

Poor Audio Quality (Freelancers):

Customers sometimes submit audio recordings with bad sounds and that causes delays and takes more time to transcribe

Pricing Concerns for Translations

: There were concerns about the higher pricing for translation services, with some users finding it a bit steep.
3. Mixed Reviews:
Freelancer Experiences

: The reviews also included feedback from freelancers with mixed experiences. They reported it's not great money or just earning minimum wage.

Business Solutions

: Business users highlighted the benefits of Rev.com's solutions for high-volume orders and enterprise-level management, often receiving their projects on time.
How does Rev.com ensure the confidentiality of my uploaded files?
I understand security is a big concern for many of us, especially when sharing sensitive or confidential information.
Well, you'll be happy to know that Rev.com takes the security of your files very seriously.
Rev uses secure servers to store your data, employing encryption technologies to protect your information during transmission.
They have a team of dedicated professionals committed to maintaining your content's confidentiality.
From the moment clients upload audio files to their platform, they employ stringent security protocols to safeguard your data.
Moreover, they ensure that only authorized personnel have access to your files, and strict confidentiality agreements bind them.
Is automated transcription better or worse than human transcription?
In my mind, the accuracy quality of human transcription is worth the extra money.
At a rate of $1.50 per minute (not audio hour), your audio or video file is guaranteed 99% accuracy for a human transcriber- versus 90% for automated transcription.
It's an investment for a few extra bucks, promising a transcript that mirrors the original content closely, making it a preferred choice for published content.
But what truly sets this service apart is its commitment to accuracy and compliance. With a remarkable 99% accuracy rate, you can rest assured that your content is handled with the utmost precision.
Which is better, TranscribeMe or Rev.com?
TranscribeMe and Rev.com have their own merits, and the "better" option depends on your specific needs and preferences.
Let's break it down a bit, shall we?
Rev is known for its quick turnaround times, 99% accuracy from freelancers, and many services, including transcription, captioning, and translation.
They have a transparent pricing structure, which many users appreciate as it helps avoid unpleasant surprises when settling the bill.
Their commitment to quality is evident in their high accuracy rates, and they offer a user-friendly platform that makes it easy to place and track orders.
On the other hand, TranscribeMe also has a solid reputation in the industry. They offer competitive pricing and are known for their high-quality transcription services.
They have a large community of transcriptionists, so they can efficiently handle large work volumes.
Their costs are also lower, but their Trustpilot reviews don't look great coming from freelancers' POVs.
I think Rev has a better reputation, and their dedication to accuracy and security is a bit win in my book.
Ultimately, the better option between TranscribeMe and Rev.com is your specific project requirements, budget, and preferences.
What kind of customer support can I expect from Rev.com?
Oh, I'm glad you asked! In the bustling world of online services, customer support can make or break your experience, right?
Well, at Rev, they have established a robust customer support system that aims to assist you at every step of your journey with them.
First, they have a pretty comprehensive FAQ section on their website where you can find answers to different questions.
It's like a mini-encyclopedia that covers almost everything you might want to know about their services. But hey, if you prefer a more personal touch, they've got you covered, too!
You can reach out to their friendly customer support team through email. They're responsive and always ready to assist you with queries or concerns.
So, whether you're facing a technical glitch, have a question about billing, or just need some guidance on using their services effectively, you can expect a helping hand from Rev's customer support.
I'm a transcriptionist. Can I work for Rev.com?
Rev.com always seeks skilled transcriptionists to join their team and make extra cash.
Rev reports average earnings for transcriptionists is $156 per month for those who work around 15 hours per month.
That's around $10.40, which is over minimum wage in most states, but the more hours you work, the more you earn.
As a transcriptionist at Rev, you can choose your own projects and work from the comfort of your home on your own schedule.
This makes it a great option for those looking to earn decent money on a flexible schedule.
You'll need to go through their application process, which includes a transcription test to assess your skills. If you pass, you'll gain access to a steady stream of transcription jobs.
Remember, to excel as a transcriptionist at Rev, you'll need to have a good grasp of the English language and grammar and be able to transcribe audio files accurately.
For more details, you can visit their website and check the careers section to find opportunities and understand their exact requirements for transcriptionists so you can start making money online.
Final Thoughts
Well, there you have it, folks! After diving deep into what Rev has to offer, I must say I'm quite impressed.
Whether you're looking to transcribe an important meeting, add subtitles to your videos, or make your creations accessible through captioning, Rev.com seems to have it all covered.
Their transparent pricing and quick turnaround times are a big plus, especially when working on a tight schedule.
And let's not forget the variety of languages they cover, making it a breeze to connect with a global audience in 16 languages.
As someone who values quality and reliability, I can see myself turning to Rev.com for future projects and can see their services benefitting many customers.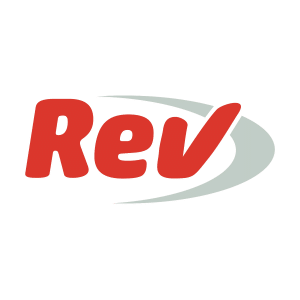 Rev
Get your audio and video files transcribed by the largest marketplace of experienced transcribers—guaranteed to be 99% accurate.
Get Started Now