This article may contain links from our partners. Please read
how we make money
for more info.
Proofreading is an essential skill for anyone who wants to produce high-quality work in an online proofreading job or as a proofreader in a company setting.
With the best proofreading courses online, you'll get step-by-step instructions that make learning easy and fun.
Plus, you can take online proofreading courses at your own pace – so you can fit them into your busy schedule.
We've done the research, and here are the 9 best proofreading classes that will teach you to spot errors in any document with ease.
You'll also know how to correct writing errors quickly and efficiently and gain the confidence to start your own online business.
Get comfortable, and let's take a closer look at each of these courses!
FREE Workshop
Quick Picks
Want a few online proofreading classes to check out right away?
You can learn how to become a proofreader, start your business, and so much more with just an hour or two of time!
Here are our top courses to develop your proofreading skills today:
9 Best Proofreading Courses To Take in 2023
1. Proofread Anywhere
Proofread Anywhere is one of the best proofreading courses out there for anyone who wants to become a professional freelance proofreader.
It also has a FREE introductory workshop to give you a feel for becoming a proofreader.
Proofread Anywhere covers all the essential topics, including grammar, punctuation, and style, and if you want the in-depth scoop, check out our Proofread Anywhere review.
You'll learn grammar and writing skills to help you create a side hustle or second income as a freelance proofreader.
You'll also learn to use editing tools, such as Microsoft Word's track changes feature.
You will be given different resources to help you learn, such as a course workbook, cheat sheets, and practice proofreading tests and quizzes.
These are handy for reinforcing the concepts that you have learned.
Overall, Proofread Anywhere is an excellent online proofreading course that will teach you everything you need to know about proofreading.
It's easy to follow, comprehensive, and perfect for busy individuals.
Not sure if you want to enroll in the course? Try their FREE Workshop for a great introduction to the course and the proofreading profession.
Features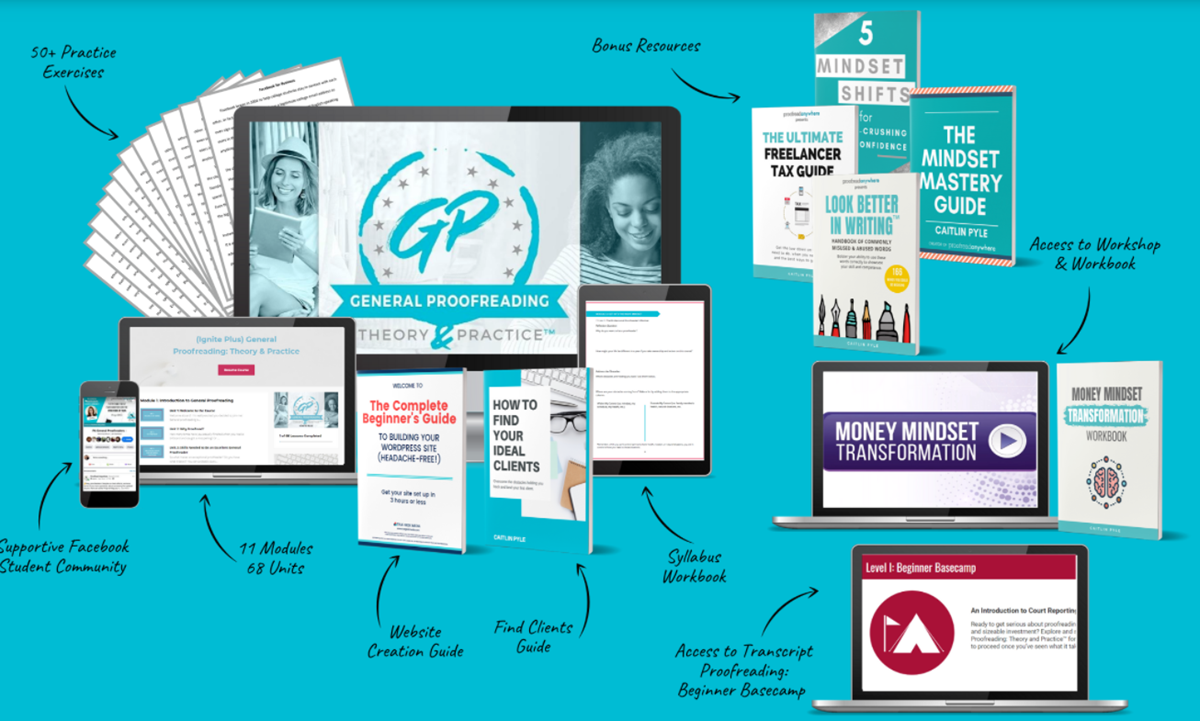 Proofread Anywhere is packed full of features, making it the best online proofreading course. Some of the features include:
80+ lessons
Grammar specific worksheets
Student Workbook
Module quizzes
Bonus resource guides
And additional resources
Topics
Introduction to Proofreading
Grammar Refresher
Sentence Structure
Recognizing spelling errors and word use
Punctuation Principles
Proofreading Practice
And more
FREE Workshop
2. Knowadays Proofreading Course
Knowadays offers 2 courses currently- for proofreading and editing. While the editing course is definitely a smart buy, today we're focusing on proofreading.
Their proofreading course is great to learn how to proofread confidently and ensure you can point out any spelling and grammar mistakes you find.
The main industries you'll learn to proofread are print/online media and academia, so if you want to proofread blogs, newspapers, academic journals, etc., this course will help you get there.
It used to offer business and translation proofreading but recently changed, so if you want one of those to be a focus, you'll want a different course.
You not only have course material to learn from, but Knowadadys also has tutors who can answer your questions and clarify lessons.
Expert help can help guarantee you learn as you go and help you get more from their modules.
The best part about this course is that their partner, Proofed, will hire those who pass the course and get over 80% on the final test!
Landing a proofreading job right off the bat is a huge advantage over other courses because you learn and can potentially get right to work and make money.
Features
Knowadays offers plenty of material for their proofreading course, including:
13 lessons to take at your leisure
Practical tasks to learn
20 documents in the course
Final test to qualify for Proofed job position
Topics
1: Introduction
2: Proofreading And Editing
3: The Basics Of Microsoft Word
4: Common Spelling Mistakes
5: Common Grammar Mistakes
6: Common Punctuation Mistakes
7: Other Common Errors
8: Proofreading In Practice: Style
9: Academic Proofreading
10: Academic Proofreading: Referencing And Citation
11: Creative Writing And The Publishing Industry
12: Proofreading Business Writing
13: Finding Work And The Final Assignment
World Class Courses
3. Proofreading Launchpad
Proofreading Launchpad is a great one-stop-shop to learn about starting your proofreading career with checklists and cheat sheets to use when you land clients.
Proofreading certification online training is for writers and editors who want to improve their editing abilities while avoiding mistakes in written documents- plus make way more money!
Ariel is a very successful freelance proofreader who went from making $500 a month to $4,000+ per month- and this is her first-ever course to divulge how she worked her way up from the bottom.
You learn everything from English language basics to practice learning sheets, plus they'll tell you what proofreading software you'll use and guide you through the programs.
The programs are very important so that you can keep track of your work and correct writing errors and more with ease, plus your clients can see what you've done.
Then Ariel teaches you about landing a proofreading job among various platforms, how to pitch yourself confidently every time, and how to perform at 110% every time.
Features
Lessons total almost 15 hours
Courses are broken down into 3 steps: Become A Proficient Proofreader, Become A Client-Getting Machine, & Become A Well-Paid Professional
Lifetime course access
6 months of access to the Launchpad membership
Most students complete the lessons in 2 weeks and start building clients in their first month of business
Topics
9 Bonuses, including a toolkit for new proofreaders, a blueprint for doing your taxes, and more
Grammar, Spelling, & Punctuation (correct writing errors)
Methodology of Proofreading & Tools To Use
How To Find Clients
Confident Proofreading Cheatsheet
FREE eBook
Proofreading Launchpad
25-Page e-Book Reveals How To Start Earning Money As A Proofreader — Even If You've Never Earned A Dollar Online Before And Have No Clue Where To Start.
Get Started Now
4. Proofreading Your Own Work
Proofreading Your Own Work is a proofreading certification online course taught by Heather E Saunders.
Heather E Saunders is a professional proofreader and copy editor with over 15 years of experience.
The course is available on CreativeLive Classes and has 8 video lessons.
In this course, you'll learn how to proofread your work like a pro. You'll also get access to helpful resources.
The tips given make a big difference in essential proofreading skills when combined.
The teaching approach used in this course is practical and straightforward. Heather E Saunders covers all the topics in an easy way to understand.
Features

8 Video lessons in HD
Over an hour of online proofreading classes
Lifetime access- anywhere, anytime
Streaming access on desktop and mobile browsers
Download and offline access with class purchase
100% satisfaction guarantee
Topics
Proofreading Tips
How to Tighten Up Sentences
Common Errors in Proofreading
Fact-Checking Everything
Reading your work like someone else
Evaluating whether your article hits or misses the audience
5. Editing and Proofreading Masterclass (SkillShare)
Want access to a great course for launching your proofreading career? SkillShare has so many top-notch courses to ace proofreading.
I recommend the Editing and Proofreading Masterclass, and with SkillShare's membership you can get access to this course and more.
Editing and Proofreading Masterclass is an easy starter course to learn editing and proofreading.
Think of this class as your guide to grammar tips, proofreading tricks, and landing paying gigs when you launch your career.
You'll also get hands-on projects to practice what you learn and edit and proofread docs with real feedback. Practice makes improvement after all!
Features
Learn about editing and proofreading- 2 courses in 1!
64 lessons
11 practical projects
Topics
Writing and publishing content
Copy editing
Proofreading
Creative Writing
Fictional and academic writing
6. The Chartered Institute of Editing and Proofreading
Proofreading is an essential skill that can be learned by taking a course.
The Chartered Institute of Editing and Proofreading (CIEP) offers multiple courses for freelance training, support, and networking events to help its members find work.
CIEP is based in the UK and offers membership to editors and proofreaders from all over the world.
The Chartered Institute of Editing and Proofreading membership is available in four tiers:
Entry-Level Membership — new proofreaders and editors with no experience
Intermediate Membership — at least 100 hours of work experience
Professional Membership — at least 500 hours of work experience
Advanced Professional Membership — at least 1,500 hours of work experience
They offer courses are focused on an online education that can be taken with or without membership. CIEP members get a discount on the courses offered.
Features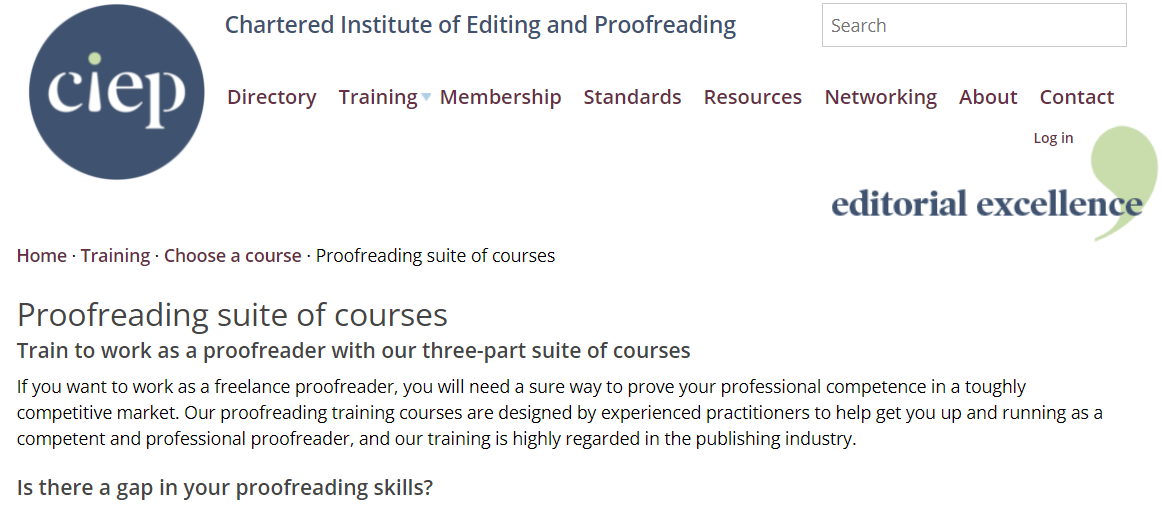 On-demand, 24/7 access
Lifetime access
Downloadable resources
Topics
The topics covered in these online proofreading classes vary depending on the course you choose.
Some of the topics that may be covered include:
Proofreading basics
Types of proofreading
Editing for grammar
Copy editing
Style editing
And more!
7. Editing And Proofreading Made Simple
Editing and Proofreading Made Simple is a LinkedIn course by Erin Rickard, a freelance copywriter, editor, proofreader, and professor.
By the time you finish this course, you will be able to improve and polish your writing with a few simple methods, plus pay more attention to detail.
This course will teach you the "five keys to effective editing." These keys include checking your writing content for spelling, grammar, and formatting.
You'll also learn how to use these rules in emails, blog posts, and more.
Apply what you learn to your work and the proofreading services you offer to others in this business that takes almost no money to start.
Features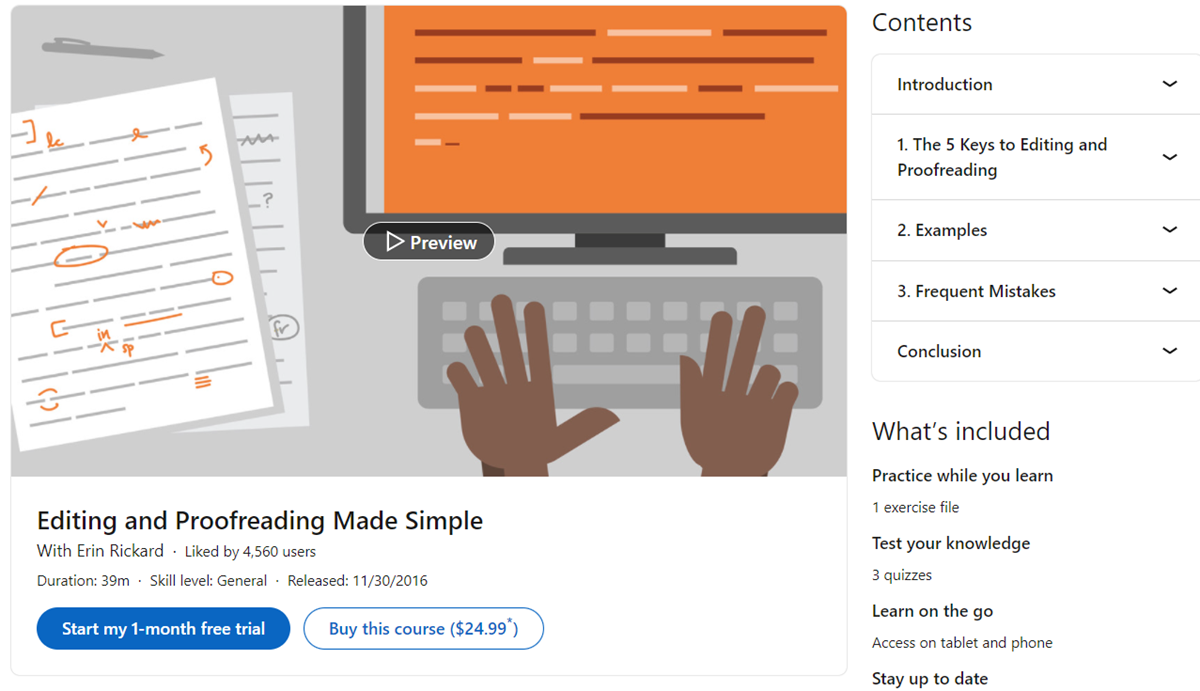 1 project file
3 chapter quizzes
Access on tablet and phone
Certificate of completion
Continuing Education Units available
Topics
The 5 Keys to Editing and Proofreading
Examples
Frequent Mistakes
8. The Publishing Training Centre: What is Proofreading?
The Publishing Training Centre: What is Proofreading? is an online proofreading class by the Publishing Training Centre.
This course is designed for people who want to learn about the basics of becoming a proofreader online and want a proofreading job ASAP.
The goal of this Publishing Training Center course is to teach you what proofreading means for four different industries:
Book and journal publishers
Other organizations may or may not be publishers but have information or messages to convey
Independent writers
Students
The course is divided into two parts that teach the general proofreading process and how to begin your path to becoming a skilled proofreader.
The first portion of the course will teach students about proofreading. The second stage is a hands-on exercise to assess your skills in proofreading.
Features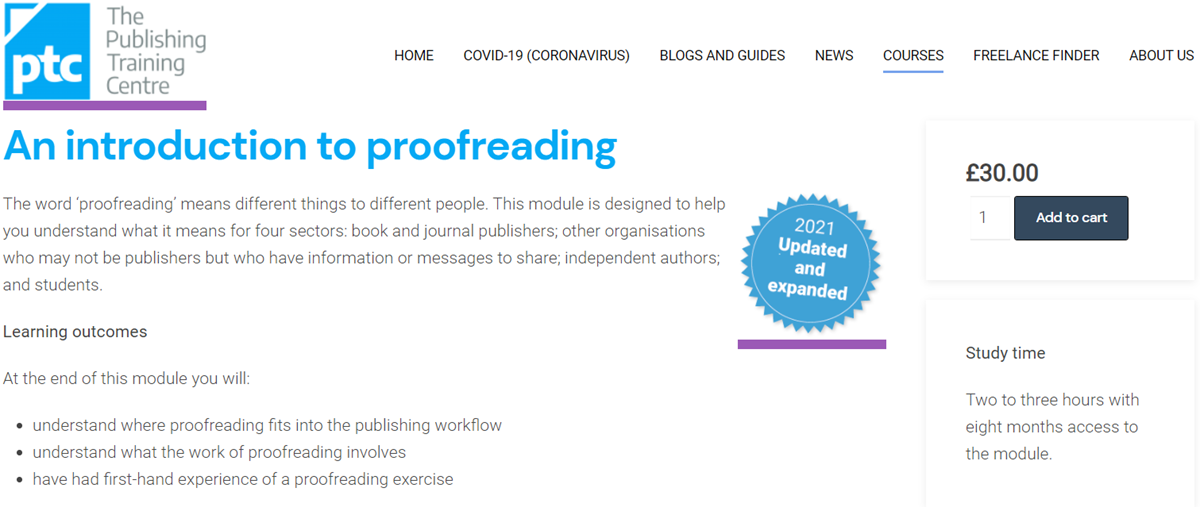 Optimized for desktop and laptop devices and not tablets and smartphones
Need a PDF reader to view some of the materials
Will receive a completion certificate from PTC
Was last updated in 2021
You have eight months of access to the course
Topics
The course description does not give a list of the course topics. It does give a list of what you will learn by the end of the course:
Understand how proofreading fits into the publishing process
Under what the scope of work involved in a proofreader career is
Have first-hand experience with a proofreading exercise
9. Proofreading Power Basics
Proofreading Power Basics is an online course that helps you learn the practical side of proofreading.
It offers hands-on exercises and quizzes to help you master the fundamentals of proofreading, such as the symbols proofreaders use.
This online course will help you understand what proofreading is and how to become a successful proofreader in an easy-to-understand, step-by-step manner.
The Copy Editing course teaches proofreading fundamentals to individuals who want to improve their writing skills.
The Proofreading Power Basics course covers the ins and outs of setting up your own profitable freelance proofreading business.
Features
1.5 hours on-demand video
13 articles
15 downloadable resources
1 practice test
Full lifetime access
Access on mobile and TV
Certificate of completion
Topics
If you are looking for topics on learning grammar, punctuation, etc., you won't find it in this course- it just does an assessment and moves into other proofreading topics.
The topics for the course materials include:
Proofreader Expectations
Grammar Assessment
Proofreading Tips
Proofreading Strategies
Proofreading Marks
And more
Frequently Asked Questions
What can I learn in online proofreading courses?
Proofreading courses are designed to teach people essential proofreading skills to efficiently and accurately spot and correct errors in written documents.
Each course varies, but most will teach you the basics of proofreading, such as grammar, punctuation, and other writing skills like tracking changes in Microsoft Word.
Some courses teach more specialized skills, such as proofreading medical documents or legal contracts.
Some provide step-by-step instructions and can be taken at your own pace, making them a perfect option for busy individuals.
Others also teach you how to start a freelance business – which is an excellent one to start as it's basically a recession-proof business because proofreaders are always in demand.
SAVVY TIP: Make sure to read the course description carefully to see what topics are covered- if you want reviews on grammar, you need to make sure you're purchasing a course with that in mind.
Are proofreading courses worth the money?
A proofreading course can be an excellent investment to make a successful proofreading career and earn more money each month.
However, if you're looking to do some occasional proofreading for friends or family, you may not need a course.
As a professional freelance proofreader, you're more likely to stand out with courses and certifications on your resume.
A free course may not be as comprehensive with the skills taught as paid courses, but it's a great place to start before you think about buying courses.
How long does a proofreading course take to complete?
The proofreading and editing courses can vary in length, but most are self-paced and can be completed at your own convenience.
Some videos can be 1 – 2 hours in total, but you can go slow, take your time, and rewatch as often as needed- much better than a typical college class, and usually a cheaper price tag too!
If you're worried about time, look at the course description to get an idea of how long the course might take you to complete and block out time in your schedule to see how much you can fit in feasibly.
Dedicating an hour or 2 to strengthening your skills with proofreading classes and bulking up your resume credentials is essential for becoming a successful proofreader.
Final Thoughts
Proofreading can be a challenging but rewarding task.
These are some of the best online proofreading courses and should give you the high-income skills and knowledge you need to start proofreading professionally.
Whether you're looking to improve your writing skills or start your own side hustle with a freelance proofreading career, these courses have something for everyone.
If you're looking for an easy way to get started as a proofreader and learn about creating your busy, we highly recommend the free workshop from Proofread Anywhere.
Plus, they do have a great proofreading course to develop all the skills you need!
We hope you enjoyed our list of the best online proofreading courses available online.
Don't forget to bookmark this page so that you can come back and find more courses to improve your proofreading skills!
So what are you waiting for? Get started on your proofreading journey today!